Wine tasting events in Barcelona
Wine Tasting Event Barcelona
Our concept. Together with our wine professional and sommelier we prepare thematic wine tastings and wine pairings that are unique and different every time! Most of the wines we carefully select and propose to you are exclusive for Barcelona.The idea is that every guest, including experienced wine enthusiasts and wine professionals would discover new grape varieties, micro zones, producers and styles of wine. We go beyond popular wine brands and, as a result, every participant always meets his/her new "winelove" at our tastings!
When? Usually the tastings are carried out in the evening during the week in one of the cosy and well-located places of Barcelona
Wine club. Our wine tastings in Barcelona are multicultural social events! Wine lovers from all over the world gather together at one table to share their culture and passion for wine and gastronomy. Our regular members have already formed a friendly wine club. Join them too!
Multilingual approach. Traditionally, wine presentations are conducted in English, but upon your request we can hold the event in Russian, Spanish or French. Regardless, we always prepare tasting materials in several languages and answer your questions in your mother tongue.
From June 2017 to February 2018, in cooperation with a wine professional, we organised the following tastings:
Rooftop Champagne tasting
Sweet Thursday (sweet wines with desserts)
White wines of South West France
Premium Cava tasting
Tuscany wines tasting (Italy)
3 Blind wine tastings
Burgundy wines (France)
Truffles and Croatian wines tasting
Island wines tasting (3 different islands)
Portuguese wines tasting
Bordeaux wines tasting (France)
New World Wines (New Zealand, Chile, Argentina)
Georgian wines tasting.
If you would like to be notified about our next wine tasting in Barcelona please  send us a message.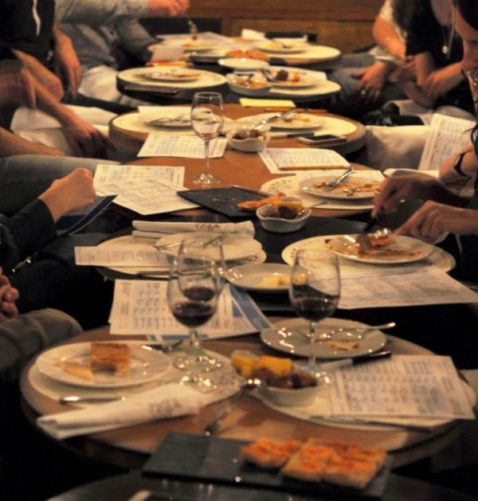 Private wine and gastronomic events in Barcelona. We offer both individual and group private wine tastings, where you will try local Spanish and Catalan wines, or any other wine region you are interested in. The private tasting package includes:
Professional wine selection based on your requestand taste(3- 4 types of wine)
Appetizers or meals to pair with wines
Professional degustation materials
Wine presentation andwine degustation basics from our wine professional.
Price: from 200 euros (depending on the number of participants and the list of wines). Contact us to make a request for a private wine tasting.